Is www.Prepaidgiftbalance.com Legit or a Scam?
A number customers have complained about the Prepaidgiftbalance gift card. Here, we will try to answer all your questions and misgivings.
Is www.Prepaidgiftbalance.com Legit or a Scam?
Yes, www.Prepaidgiftbalance.com is a legit website and the Prepaidgiftcard cards are legit and safe to use. The prepaid cards are issued by U.S. Bank National Association, and are all pursuant to a license from Visa U.S.A. Inc. or alternatively, Mastercard International. The prepaid gift cards are valid, legal and safe to use.
However, many customers have filed complaints to the BBB about the www.prepaidgiftbalance.com website, regarding:
Difficulty accessing account information
Poor customer service
The www.prepaidgiftbalance.com website not working.
Unauthorized charges on gift cards
If you are wondering whether you have found the correct and official website, when logging in, then yes, the www.prepaidgiftbalance.com IS the correct address for the U.S bank issued cards, sold at Kroger and CVS. Be aware of similar sounding websites, such as www.prepaidgiftcardbalance.com, and www.prepaidcardbalance.com.
If the www.prepaidgiftbalance.com website is not working or loading, do the following:
Enter www.prepaidgiftbalance.com and NOT prepaidgiftbalance.com, without www, in your browser.
Be patient as the website can be slow to load.
Check the website from another device, e.g. a mobile phone.
Be careful not to misspell the website address, as in www.prepaidgiftbalance.con or www.prepaidgiftcardbalance.con or www.prepaidgiftcardbalance.com.
Enter your 16 digit card correctly in the login field, without dashes or spaces. Make sure that you are entering 16 digits only, and not the 30 digit number on the back of the card.
Be aware that Prepaidgiftbalance cards cannot be used abroad and have an expiry date. The www.prepaidgiftbalance.com website can also not be accessed abroad. If you use a VPN, try turning it off when accessing the website.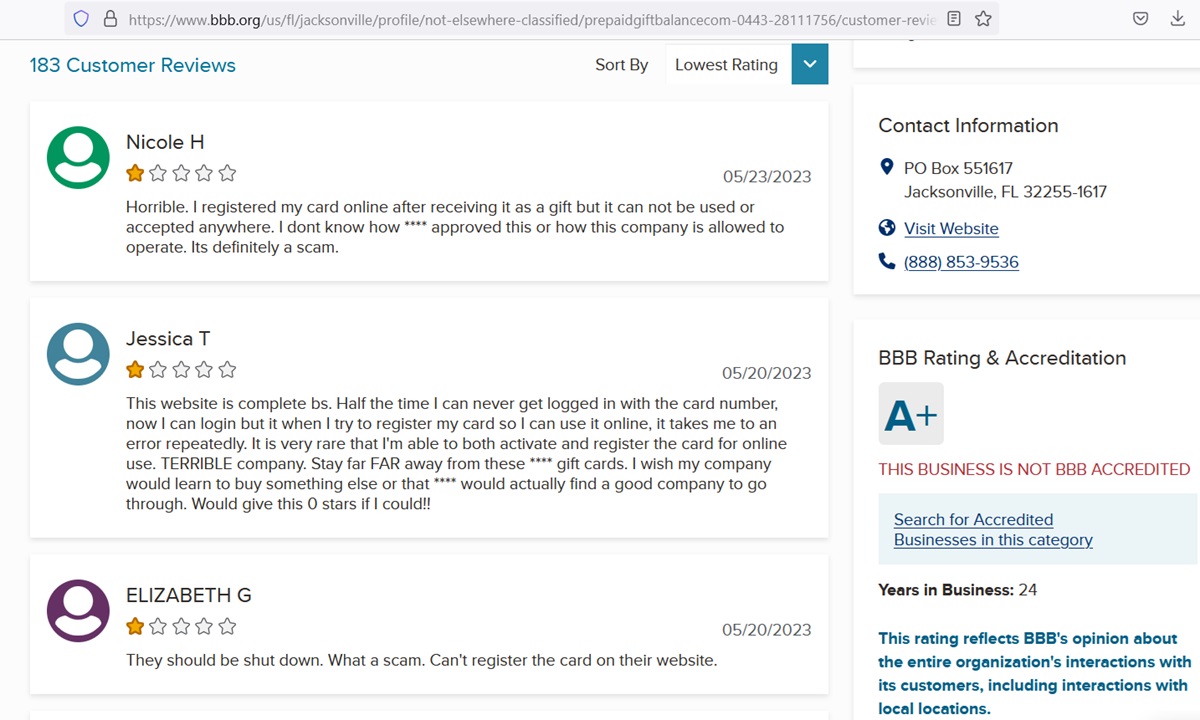 Prepaidgiftbalance Complaints.
There are valid complaints about the www.prepaidgiftbalance.com, website as the site has an unprofessional appearance and is poorly designed.
The website's privacy policy is vague and does not clearly explain how the company collects, uses, or shares personal information. The website's customer service is also difficult to contact and the phone number can be unresponsive.
Many of the gift card complaints center about cards being declined, as many users do not know that prepaid gift cards from Prepaidgiftbalance.com will have to be registered on their website first, before they can be used online.
The prepaid gift cards will also be declined if the total spend on a single transaction, including a 20% tip in restaurants, exceeds the amount on the card.
Lastly, customer should be aware that all Prepaidgiftbalance gift cards have an expiry date which is the last month and year shown on the card. Before buying the card, customers should check the Expire Date on the cards.
Scams and fraud plague all gift card issuers, as scammers sometime find a way to empty the cards before they are sold, somewhere in the supply chain or in a Kroger store. Check that the card has not been tampered with.
If you have a gift card from prepaidgiftbalance.com, check your balance regularly. If you notice any unauthorized charges, contact the issuer of the card immediately.
If you have been the victim of a gift card scam, you can report it to the BBB, the Federal Trade Commission (FTC), or your local consumer protection agency.
You can also leave a comment or complaint about www.prepaidgiftbalance.com below this page.